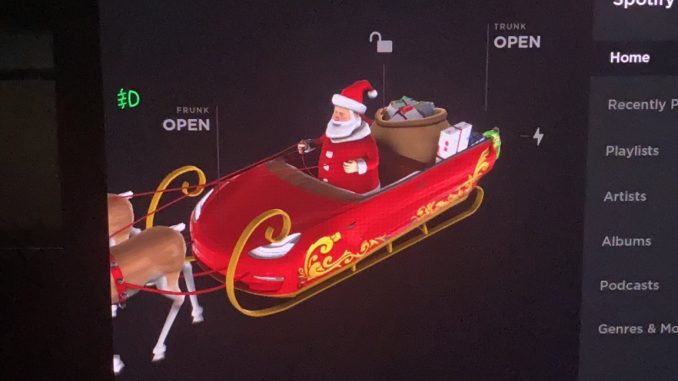 Elon Musk hasn't revealed any information about this year's holiday software update, but new details are emerging that indicate it will include some long-awaited features, including one that Musk said was "coming soon" nearly two years ago.
Every year Tesla releases a software update a day or two before Christmas, and packs it with new features. Sometimes this holiday update lives up to the hype, while other times it doesn't quite meet expectations.
Depending on your priorities, this year's holiday update could fall into either category, according to an early look at some of the features that will be included in this year's version.
The feature list was shared by Teslascopea third-party software and update tracker, who received the information from two separate employees.
As we have previously reported, the employees confirmed that Apple Music will be included in the update, although it is still unclear if it will include Dolby Atmos support.
To go along with Apple Music, Tesla will also be updating the music player for more customizability, including the ability to move it around on the display.
Tesla will also be adding support for MyQ WiFi garage door openers. Back in April 2020 Musk said they would be adding integrated controls for garage door openers that have WiFi capability. Depending on how this is integrated, it will likely offer a much cheaper alternative to Homelink, the $480 CAD/$350 USD accessory that automatically opens and closes your garage door.
Teslascope also said the update would include new games, but was unable to share more details on the specifics. We expect this to include Steam integration, allowing you to play the thousands of games available on the streaming platform. Musk was testing Steam earlier this summer, and the online gaming platform recently added code to check if you are logging in from your Tesla.
Steam now sends whether you login from a Tesla. https://t.co/5C4sPtaPle pic.twitter.com/VZngL5c8Wn

— Pavel Djundik (@thexpaw) November 30, 2022
Other new features will include the ability to remotely schedule a Light Show, and the ability to make your Tesla far through your mobile app, otherwise referred to as 'remote emissions mode.'
What else would you like to see in this year's holiday update? Let us know in the comments below.
https://twitter.com/teslascope/status/1600287282124435457