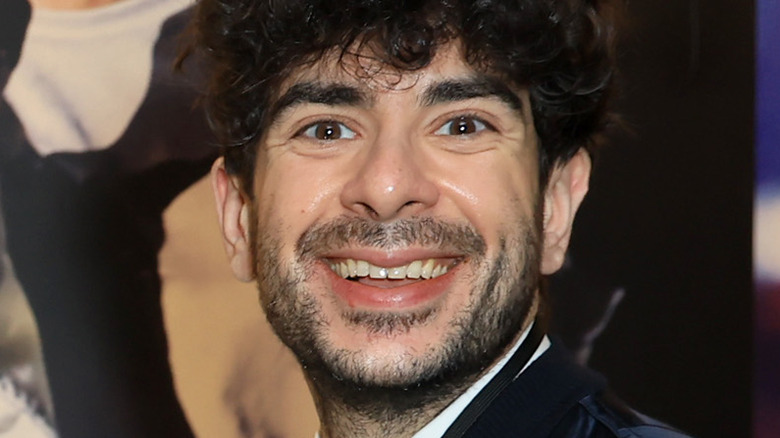 Leon Bennett/Getty Images
It's a new year, and a new look is coming to AEW programming. Rumblings of a major change for the company began last month, amidst the hiring of the former Vice President of Global Television Production of WWE, Mike Mansury. Now in All Elite Wrestling, Mansbury secured the title of Senior Vice President and Co-Executive Producer.
While not officially confirmed, Mansury likely assisted the production team in executing the new vision for the company, as AEW President Tony Khan referred to him as a "really valuable addition" who's "up [to date] with all the state of the art technologies," in a recent appearance on "Sports Guys Talking Wrestling."
A preview of AEW's new look emerged in recent commercials, promoting a "new Dynamite" in the "new year." The advertisements teased a fresh color palette, tied together with flashing lights and lasers in the background as the company's top stars appeared in the forefront. With the new year underway, AEW will officially debut its new look and stage setup on Wednesday's edition of "Dynamite."
"It's a sports-based presentation and that's what we always go for," Khan explained. "It's a great pro wrestling show every Wednesday on TBS, and every Friday on TNT. We wanted to change the set to reflect a new era, and I think it's going to be a great look for the show. It's a great set. It's still going to be the same great wrestling because it's going to be new matches and new stories and a lot to look forward to."
In regard to pay-per-views, Khan believes the "grid matrix" look will "flow really well," especially with the traditional "green futuristic look" of Revolution.
If you use quotes in this article, please credit "Sports Guys Talking Wrestling" with an h/t to Wrestling Inc. for the transcription.